'Our Families, Our Journey' celebrates the rich cultures within Sparkbrook and Balsall Heath. Children and adults who live in the area are creatively exploring how people from our neighbourhood made their way here and how this contributes to the rich cultural landscape of the neighbourhood and Birmingham.
During July and August 2022, Artists Alison Clawley (of Make Good Arts) and Kiz Manley (of Hip Hop Heals) are working with Conway Primary School, Nelson Mandela Primary School and Ashiana Community Project to lead fun, creative workshops.
Both artists are using stimulus such as local history, maps, fabrics and spices as a starting point for delving into the themes of the project.
Alison has been supporting groups to use a range of techniques, including fabric painting, printing and appliqué, to decorate fabric squares and create a fabric wall hanging for each group. Kiz has taken stories and ideas from different cultures to imagine a new country, complete with its own sports teams and passports.
Funded by Birmingham City Council's 'Celebrating Communities' fund for Sparkbook and Balsall Heath East ward as part of Birmingham 2022 celebrations to welcome the Commonwealth Games to Birmingham.
Nelson Mandela Primary School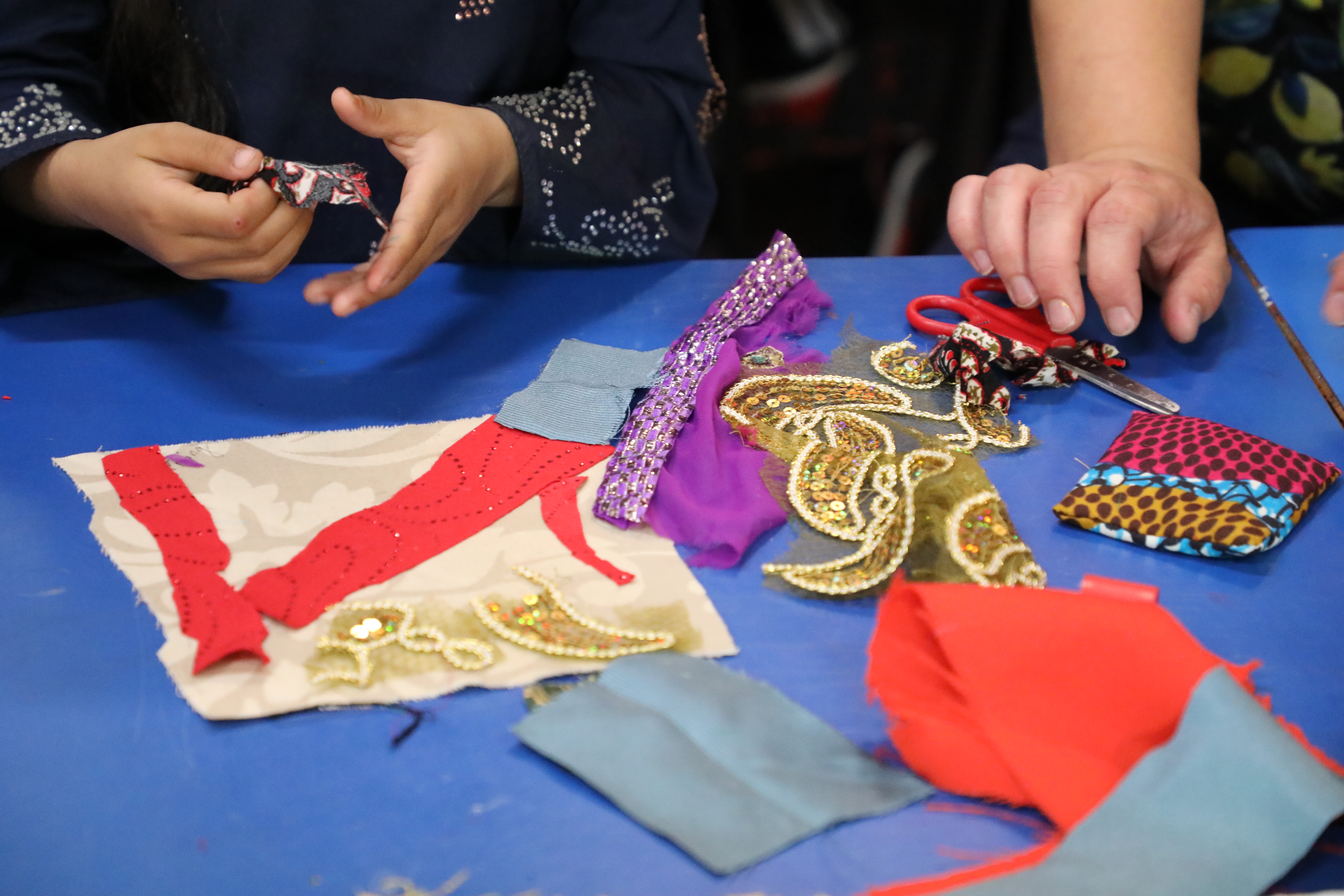 Pupils from Year 2 at Nelson Mandela Primary School were joined throughout the day by parents and carers, who enjoyed the opportunity to work alongside their children in a relaxed space.
Art Works were invited to display their work at Birmingham Museum and Art Gallery during the Commonwealth Games in Birmingham. It was hung above the Industrial Gallery for visitors to view.
I've been really impressed with the kids, how articulate they have been about their families and personal journeys and how excited they have been and the level of focus. The variety of artworks and ingenuity using the same materials to create something which is their thing. It's been a big difference having parents here because they've got the background story of the family, things that the kids may not have realised about their family's origins, skills or experiences as well as their help and support. One mum did a family tree in the shape of a tree with flowers for parents and in-laws which was beautiful.

Alison Clawley – Make Good Arts
Conway Primary School
It was very clear through these workshops that pupils have a very strong sense of their cultural heritage, with close ties to Pakistan, Bangladesh, Afghanistan and Yemen. A girl painted an image of a dry, sandy mountains, inspired by a trip her father had made to Yemen, and which she hopes to take in future. A boy focused on the Afghan flag and mountains and spoke about the snow leopard as the national animal.
Children identified the key aspects which make up a 'national identity', including geography, costume, religion, a flag, national anthem, songs, dance and sport. They created painted pictures illustrating these aspects for a country where their ancestors came from and they also used this imagery to create a poem.

Kiz Manley – Hip Hop Heals
Ashiana Community Project (ACP)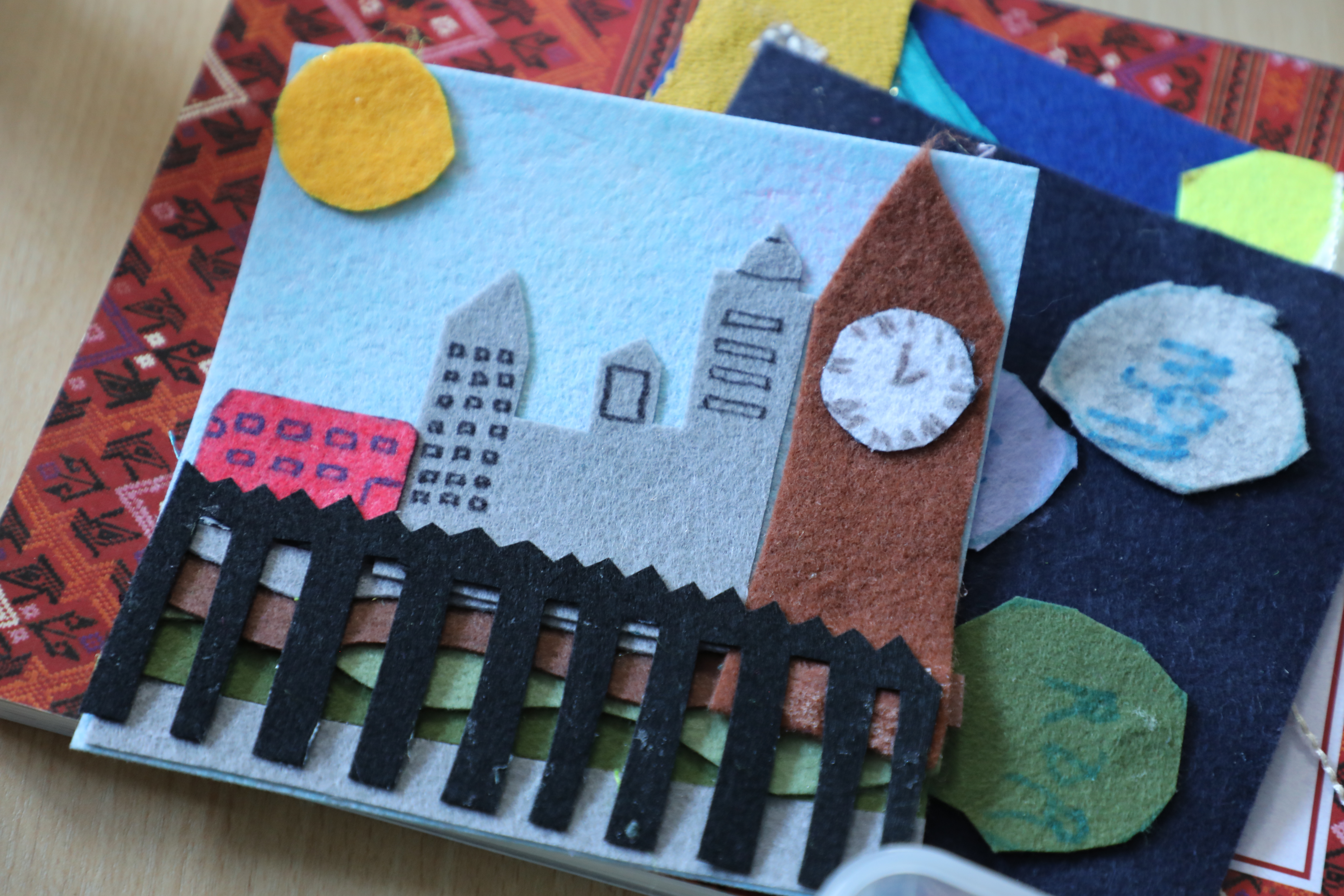 ACP ran a full day holiday session with Alison Clawley for some of the families who access their services. Through the process of making, the women attending opened up about their family's stories, their longings for other places – in Pakistan, London and Jamaica – and the importance of maintaining these connections for their children.
I never thought that I would experience such deep kind of connections while making these art pieces, especially the one with the using different kinds of fabric. It took me back to the places that I have a very strong bond and connection, and I absolutely loved it.

Tahira – participant