'My Doorstep, My Culture' is an exciting programme of creative workshops across three community organisations, led by local Artist ILdikó Nagy and culminating in a group exhibition at Moseley Road Baths.
Funded through Birmingham City Council's 'Culture on our Doorstep' fund, the workshops have been an opportunity for people to explore their culture, interests and ideas through Artist-led workshops.
Each group started by viewing a selection of images depicting different artforms and artworks, including some of ILdikó's own projects which include the huge woven willow hare in Moseley Park and a recent recycled plastic sculpture in Coventry (examples of her work can be seen on Instagram at @_usefool_). These prompted stimulating conversations about each group's interests and hobbies, with some people even pulling out their own craft projects. It was clear from the outset that there were keen artists within each group.
Quite quickly, this developed into a co-designed programme of creative activities for each group. Participants were eager to express themselves creatively and committed to working collaboratively to create something reflecting their talents and perspectives and cultural identity.
Amal Creative
Amal Creative are a group of predominantly Yemeni women who meet weekly at the Women's Enterprise Centre on Ladypool Road in Balsall Heath. For some time they have been gathering for craft and conversational English, but wanted to find new ways to express themselves and develop their skills.
The women were keen to experiment with new materials and quickly got stuck into working with clay, needle felting and willow work. Some of the women soon developed a love of crochet. As they worked, they began to find ways to express and discuss their Yemeni heritage and were eager to share that with others. Their huge willow arch reflects the ambition of the group to boldly express themselves.
Smart Women CIC
SMART Women CIC are an organisation serving South Asian Women in Balsall Heath, Sparkbrook and Sparkhill. Based on their centre on Chesterton Road, they run a gym as well as a variety of wellbeing activities.
The group were keen to develop new skills in addition to exploring traditional Pakistani crafts passed on through family. For them, welcoming others into their homes is key part of their culture, and so the idea of creating a door was born. Their door is embellished with traditional henna designs which sit alongside willow lanterns and felted flowers to guide guests to the doorstep.
Kinmos
People travel from across the city to attend this group in Kings Heath for people with lived experience of poor mental health. The group meet weekly to connect over hot drinks, conversation and craft sessions.
Many of the group have an existing creative practice, so were keen to develop existing skills as well as try working with different materials and artforms. Excited by the possibilities of using mosaic, willow weaving and lantern making, they decided to create a large heart shaped sculpture as the centre-piece of their work. This is complemented by clay candle-holders and a welcome rug to create a warm welcome to the group's 'doorstep'.
Exhibition launch – 5th February 2022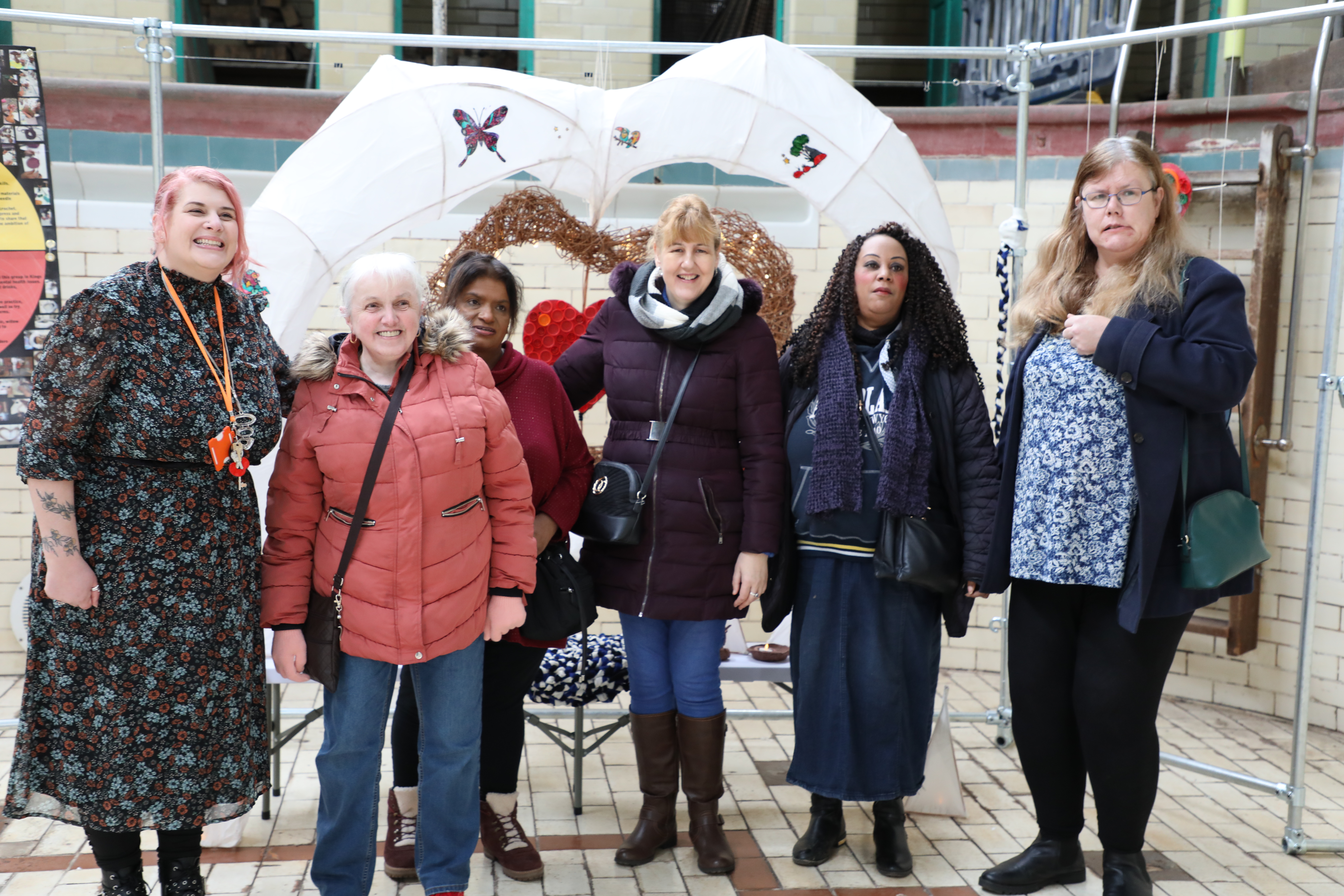 The exhibition was launched to an invited audience of participants, their families and friends on Saturday 22nd February in the glorious setting of Moseley Road Bath's empty Gala Pool. Over 30 people attended the launch where groups viewed each others' work for the first time and reflected on their achievements with food and drink.
'My Doorstep, My Culture' is in the Gala Pool until 30th March 2022.