GUSH Theatre are seeking a freelance technician to live-stream two performance events. The role will involve facilitating one live-stream remotely (all performers will be in their own homes), and working alongside a videographer to facilitate the second live-stream from our host venue in Balsall Heath.
Fee: £400
Event dates: 17/12/20, 14/01/21
Venue: The MIX Community Café, Old Print Works, 500 Moseley Road, Balsall Heath, Birmingham B12 9AH
All info and how to apply can be found on this Google Doc: https://docs.google.com/document/d/1DtnAbUfdXfy7R47t9tJYdGE_Q3Foxr_5dY_AEkpvPaE/edit?usp=sharing
If you have any questions or would like the info in a different format, email us at gushtheatre@gmail.com
GUSH Theatre welcome applications from everyone regardless of age, sex, gender identity, ethnicity, socio-economic background, sexual orientation, religion or disability. We are particularly interested in working with people who consider themselves to be from backgrounds that are currently underrepresented in the arts sector.
Supported by Arts Council England , The Society for Theatre Research and The GAP Arts Project.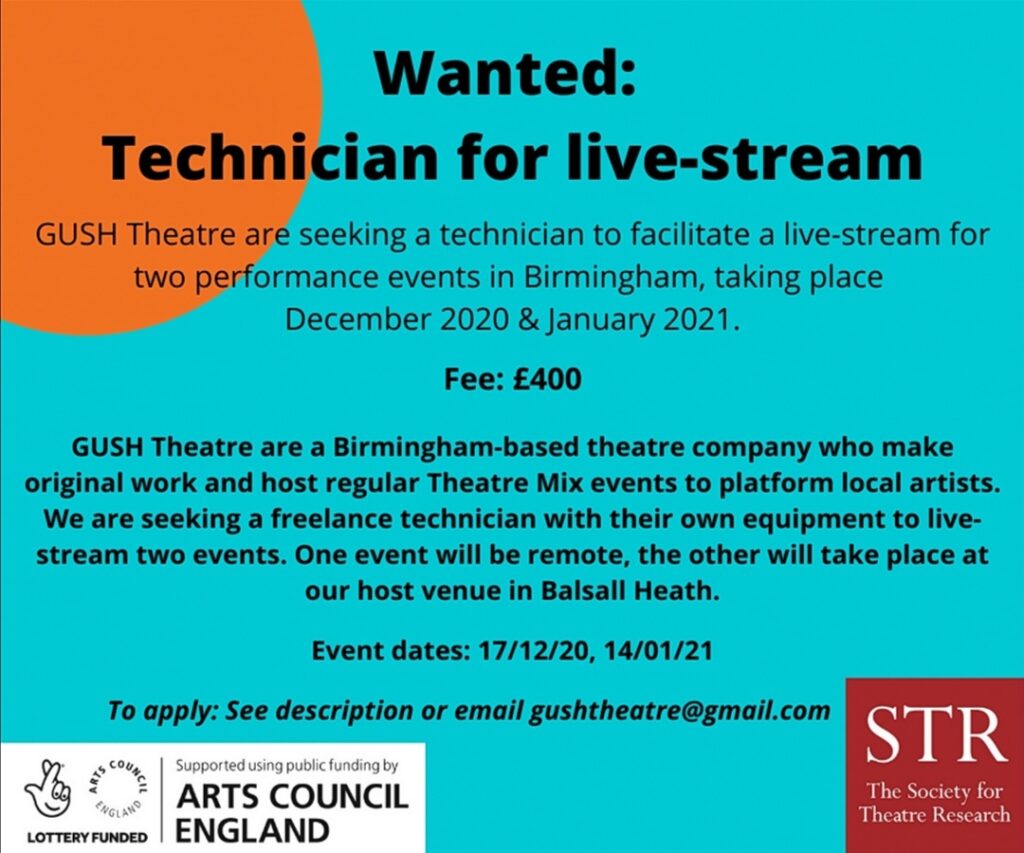 [Image description: A blue background with the text "Wanted: Technician for live-stream. GUSH Theatre are seeking a technician to facilitate a live-stream for two performance events in Birmingham, taking place in December 2020 and January 2021. Fee: £400. GUSH Theatre are a Birmingham-based theatre company who make original work and host regular Theatre Mix events to platform local artists. We are seeking a freelance technician with their own equipment to live-stream two events. One event will be remote, the other will take place at our host venue in Balsall Heath. Event dates: 17/12/2020, 14/01/2021. To apply: see description or email gushtheatre@gmail.com."]