What better way to start the new year than with a member artist exhibition? Join ORT Gallery to share and celebrate the opening of our very first exhibition of 2022. 
Date: 20th January 2022
Doors open: 5pm
Duration: 1.5 hours, Free Entry
Venue: ORT Gallery, Moseley Road, Balsall Heath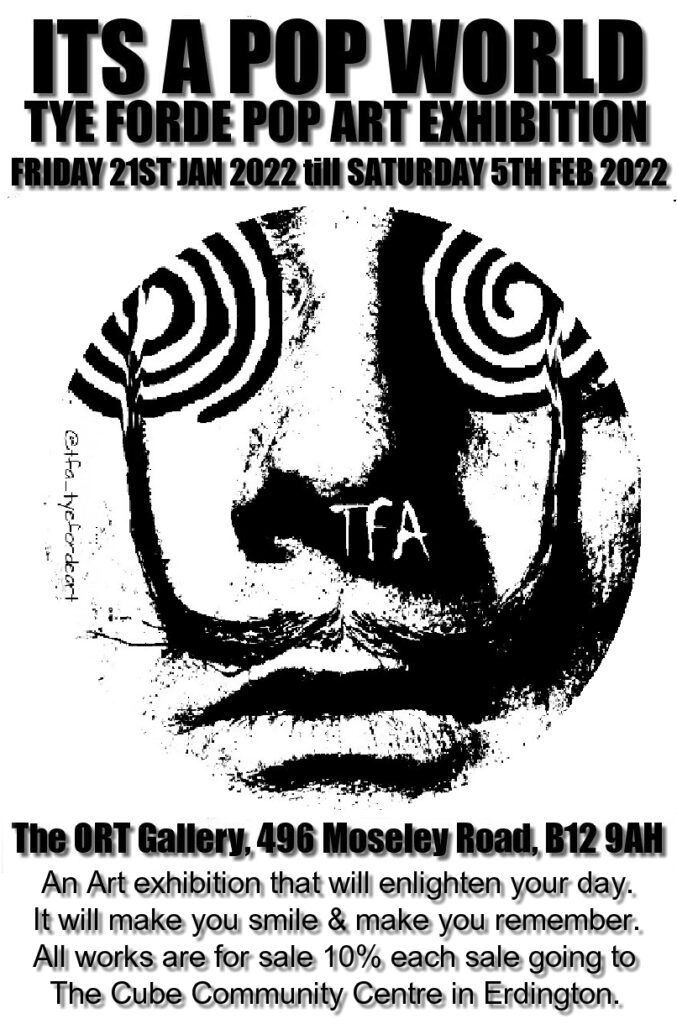 About It's A Pop World
A Pop Art exhibition by popular Birmingham Artist Tye Forde aka TFA, exploring how the modern world has become split during the Pandemic. Expect lots of colour, stormtroopers, talking points and some installations.

About the Artist

Tye is a 49-year-old self-taught artist from Birmingham.

"I always liked drawing mainly copying cartoons from magazines Superman and Judge Dread 2000AD. In the mid 80's I had a keen interest in rise of Hip Hop in UK and also the early graffiti movement. I would be off doing "Tagging" around Birmingham and getting into trouble with the local police. After several arrests, community service and the threat of being chucked out the house by parents I decided its time to stop. So after a 20 year plus break, I got involved in Art after speaking to some other artists in The Cube Community Arts Centre located in Erdington. I rented a space at the Cube and then it all took its journey. I started studying all different types and styles of art from the masters and travelled all around Europe visiting art galleries, exhibitions and museums. After studying all the styles I decided I loved Pop Art and wanted to develop as a Pop Art Artist creating fun, strange funny pieces. I have great admiration for Renaissance Art, particularly artists such as Da Vinci, Michelangelo, Botticelli, Raphael. I also have respect for all art and especially graffiti artists who produce incredible pieces on difficult surfaces, in difficult conditions not using brushes and at incredible scales. I try to create pieces that people will enjoy and look at and hopefully not forget. I also wanted to keep Pop Art movement alive in Birmingham."