Become a part of our friendly volunteer team working together to support our mission of engaging young people and the local community through creative and cultural action!
The running of our venue and its important day-to-day operations is reliant upon a small team of committed volunteers. We're now looking to expand the team as we re-open our space to the world once again and welcome back our community. We want people who share our vision, have initiative and ideas to share, and who want to get involved in a longer-term journey with us. In the spirit of mutual exchange, we'll work together to design a range of volunteer benefits in return for your time, energy and commitment, which will include opportunities to get involved in a whole host of other ways.
We've outlined below the details of the current roles and how your involvement would support our vision.
To express your interest, fill in your details on our Volunteer Form by the 28th April. Link to form – https://docs.google.com/forms/d/1xot3p0Uy6EZKvQgImJMicennt1x-iuVCgmgB_nY45r8/viewform?edit_requested=true
We'll then invite you to come along to an informal group session at The GAP where you can meet the team, see the space, share the vision and find out more details!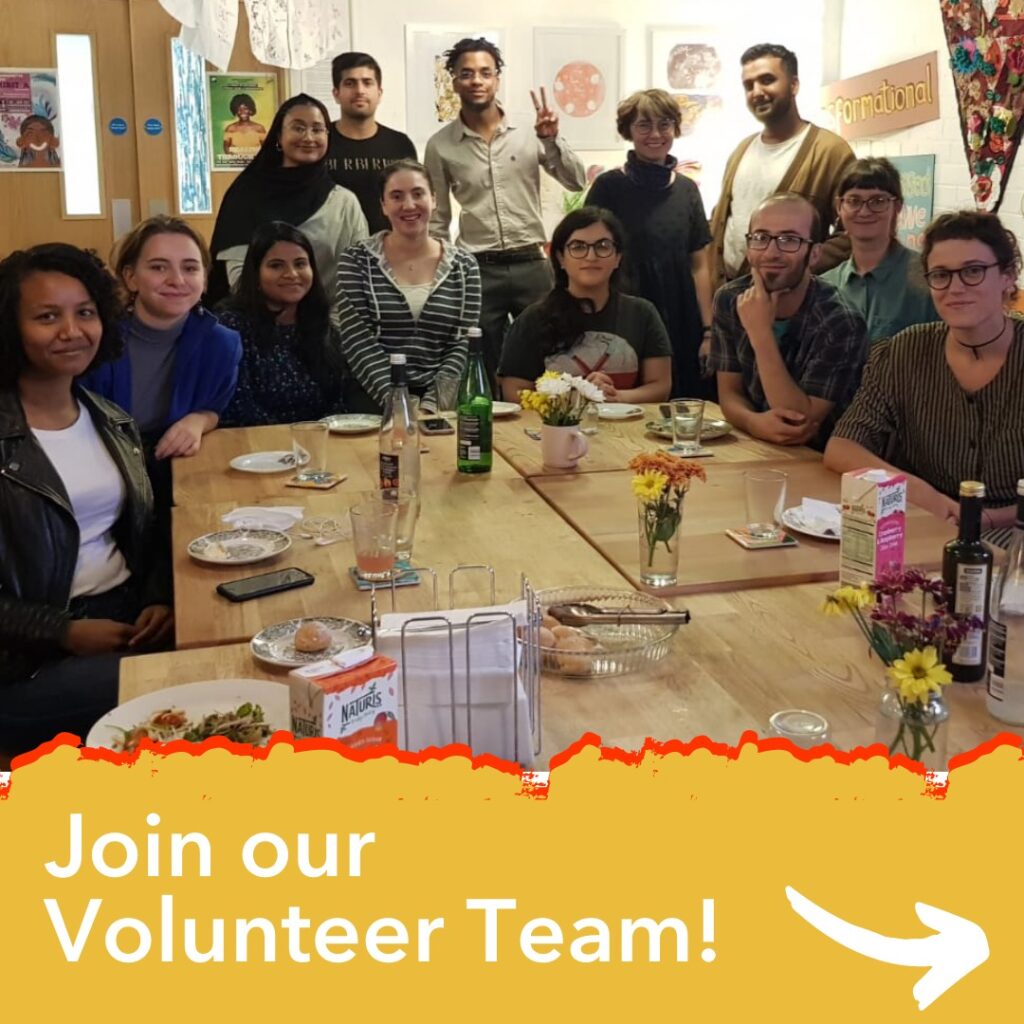 COMMUNITY HOSTS
This role is all about making sure our venue is welcoming, accessible and engaging for all our community.
You'll be the first person our visitors come into contact with, making people feel comfortable, ensuring they're informed about our work and what's going on, and encouraging different types of engagement and participation. Responsibilities will include (but are not limited to) welcoming and chatting with visitors, engaging them in the exhibitions, answering enquiries, signposting to our upcoming events or projects, collecting feedback, addressing accessibility needs, taking donations, signing people up to our mailing list, etc.
We want individuals who love to connect with and care about people of all ages and backgrounds, are confident and friendly, great communicators, have an understanding of accessibility needs, with a genuine enthusiasm for our work and a desire to get others involved. Ideally you'll live in or around Balsall Heath.
CAFE CREW
By assisting us with the smooth running of our community cafe, you'll be helping us to raise the vital funds needed to sustain our work.
Our cafe is a really important way of introducing audiences into our creative and cultural work, whilst also acting as a cosy hub for conversation and community exchange. As well as serving delicious food and drinks, our Café Crew play a very important role in creating a welcoming environment and ensuring our customers have positive experiences that make them want to come back. Responsibilities include greeting and seating, waiting on tables, serving drinks and snacks, and keeping things clean and tidy.
We want individuals who enjoy and are confident in customer service, who can commit to following COVID-secure hygiene procedures, and who are friendly and hospitable towards all different types of people. Ideally you'll live in or around Balsall Heath.