Art Works commissioned B'Opera to co-create a new musical production with children under five and their families at The Springfield Project in Sparkhill.
B'Opera co-created a new musical production, 'Hello Bird, Hello Fish!' with and for children and their families who are users of The Springfield Project Children's Centre, Mini Springers and Park Road nurseries. Funded through Birmingham City Council's 'Next Generation' fund, the piece will was devised through a programme of participatory sessions and was showcased at The Springfield Centre on 22nd February 2022.
Co-creating with children and their adults
The process utilised the Early Years expertise of The Springfield Project staff team and B'Opera, who have extensive experience in this area. Both B'Opera and The Springfield Project are partners in the Early Years Music Consortium, currently delivering the Youth Music funded project Sounds of Play.
The Springfield Project is passionate about using the arts in our work with children and families in the Sparkhill area. We know that music has a transformative impact on children and adults and the opportunity for children and parents to co-create an opera from scratch is amazing. We are delighted to work with B'Opera and Art Works on this and can't wait to see the performance in February.

Sarah Robbins – CEO, The Springfield Project
B'Opera ran a series of interactive workshops, designed to empower children and families to find and use their voices through a combination of means, including open-ended prompts and stimuli, recording and playing back their voices, and eliciting stories and experiences to be incorporated into the final piece.
Driven by the belief that children of all backgrounds need to participate freely in cultural life and the arts, B'Opera was founded on the desire to bring people together around a common shared experience of music. We're thrilled to be making this production, and particularly excited to be creating it in collaboration with the Sparkhill community.

Zoë Challenor – Director and Founder of B'Opera
Exploring big ideas with little people
The project explored themes of difference and sameness, including themes of travelling, exploring, identity and home. Borne out of the concept that we have 'more in common than that which divides us', the workshops and final sharing explored these ideas in a safe, playful way.
A story soon emerged of a lost bird trying to find its people – and along the way experiencing rejection by those it thought would be friends, including a group of fireflies and a swarm of bees. Dejected and lonely, the bird encounters a group of fish, including one frustrated fish who is deemed too noisy for the others. The lost bird and noisy fish soon strike up a friendship, embracing their differences and celebrating their shared love of noisiness and fun!
Working with new Artists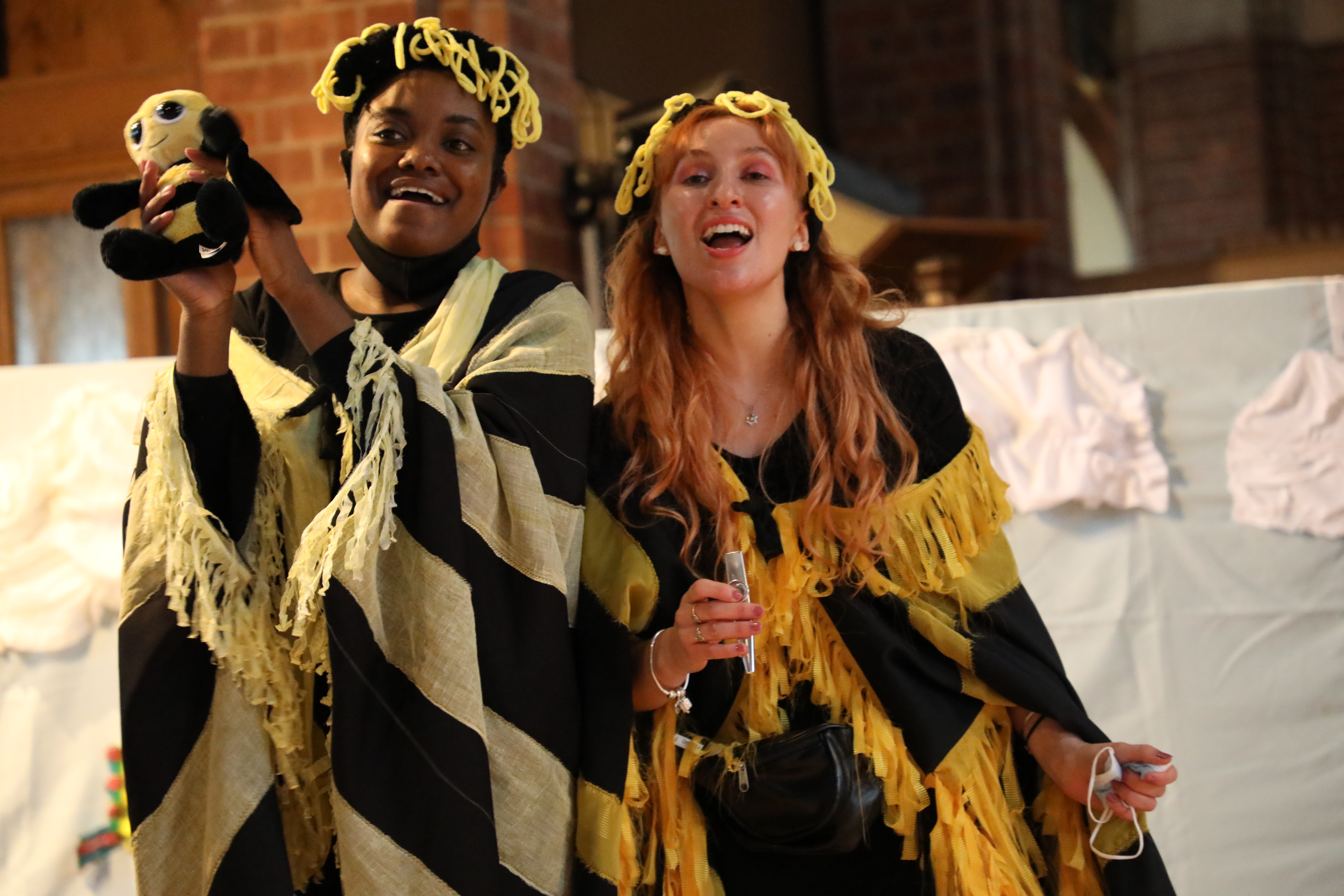 B'Opera worked with two young artists, Aliyah Wiggins and Sophie Williams. Both artists were able to develop their existing practice in performance and early years, taking the lead in creative sensory play and interactive opportunities for children and their adults at the final sharing. They were mentored by Zoë Challenor.
The project also welcomed Designer-Maker Rukhsana Sardar to the team. Raised in Sparkhill, she brought with her over 20 years of experience working in fashion and an interest in community arts. Rukhsana is in the process of setting up a creative zero waste textile business: ecoraa.com.
High quality, inclusive opera
The culmination of the project was a sharing event at The Springfield Project on 22nd February 2022. Families were invited to a special performance to see their ideas in development.
Everyone was greeted with free-flow sensory play opportunities with members of the B'Opera team to allow children and their adults time to explore the space, meet the performers and touch some of the props. This was crucial in creating a relaxed, interactive space where everyone was welcomed and made to feel comfortable.
The playfulness continued as B'Opera began the performance, with some children moving, singing and dancing alongside the performers. The audience was treated to a combination of classical opera, new versions of classical nursery rhymes and a lullaby in Urdu. Characters wore colourful costumes that accentuated each animal's movements – the gracefulness of fireflies, the elegance of fish or the swooping and swishing of the lost bird.
The audience was invited to gather for food and reflection following the performance, through informal conversations or adding written comments to the 'feedback fish'. Some spoke about their own experiences of feeling excluded, through racial or faith based discrimination. Others commented on their parents' use of lullabies to soothe them as children.
Sarah Robbins, CEO of The Springfield Project, has written a piece (opens as a PDF in a separate window), outlining the value of this project for the community she serves in Sparkhill. Thanks are due to Sarah and all of the staff at The Springfield Project for embracing and facilitating the project throughout.
Zoë Challenor has also written an evaluation (opens as a PDF in a separate window), sharing her reflections on the process and how it forms part of B'Opera's vision to centre the voices of children in their creative practice.
Where next?
This initial sharing of 'Hello Bird, Hello Fish!' is just the first outing for the work – B'Opera will develop it further and tour the piece to other children's centres and community venues, including as part of this year's Commonwealth Games Festival programme and The Springfield Project's Creative Families Festival.
If you are interested in learning more about 'Hello Bird, Hello Fish!' or would like to host a performance, contact Zoë Challenor at zoe@bopera.co.uk.
All images © Rachel Gillies for Art Works